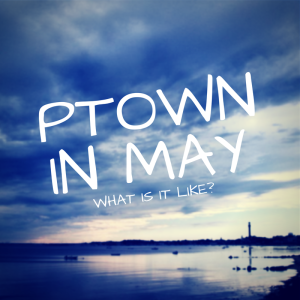 Provincetown is one of the most popular summer vacation destination spots on Cape Cod throughout the months of June, July, and August. But what is it like before the heart of the season, in May? Simply put, wonderful! There are lots of exciting activities and things to do before the season really kicks up on Memorial Day.
Opening Parties
One of the most fun things of the season to many of the "townies" is the opening parties at many of the area restauraunts, bars, and boutiques. Almost every night, a different location opens its doors for the season and holds an event to showcase their menu, items for sale, or specialty drinks. It is a great way to meet these business owners and many of the people who call Ptown, "home" all year long.
Biking/Hiking
Avoid the summer heat and take your bike or shows out to the beautiful trails and beaches. This is very popular year round but especially beautiful this time of year when flowers are blooming and things are coming alive. It is also much less busy, giving a peaceful feel to your interaction with nature.
Galleries/Shopping
May is one of the best times of year to get some great deals on items in the area boutques as they bring in merchandise for the new season. Additionally, many of the gallery owners are anxious to sell a few pieces to really kick off the busy time well. Take some time to pick up some great items at one of the Ptown boutiques.
Sure, it can be a bit nippy out some Mays but don't let that stop you from checking out Ptown before the busy season hits. Plus, rates are especially competitive for your hotel stay, making it a great weekend vacation spot.