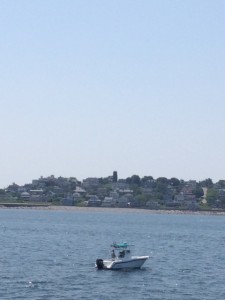 You are ready to start your Provincetown vacation and are in Boston figuring out how to make the trek to Ptown. One of the best options that you should consider is the Fast Ferry, offered daily throughout the season with many times to fit a variety of schedules. Two operators, Bay State Cruise Company and Boston Harbor Cruises, offer service from Boston right into the heart of Provincetown.
So what is a ride on the ferry like?
Well, the 90-minute trip is, in a word, delightful! Both operators have a very efficient system of loading and unloading that typically only takes 10 minutes. They are both very punctual and, outside of any weather conditions or unforeseen circumstances, stay fairly true to the hour-and-a-half time frame.
What do I do on board?
Both companies offer food, beer, wine, coffee, and other refreshments on board for your pleasure. There is a bartender serving the entirety of the trip at the snack bar. The views are wonderful as you sail into Boston as well as into the Ptown harbor – definitely a huge plus of the trip. There are very limited plugs on board so don't expect to be too "plugged in" but that just forces you to take in the beauty of the water. There is also wifi on board both that can be spotty but nice for checking email or a quick "connection."
How can I get tickets?
Both companies offer tickets online or at their locations in Boston and Provincetown. Bay State Cruise Company can be found near the Seaport Convention Center and right off the pier in Provincetown sharing an office with the Chamber of Commerce. Boston Harbor is located near the Aquarium in Boston and right down from the pier in Ptown – both convenient locations. No matter which company you choose, the ferry is a quintessential Provincetown experience you are sure to enjoy!