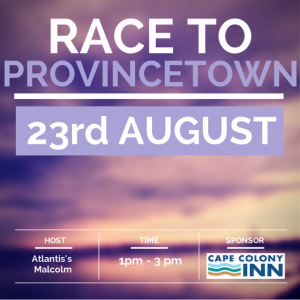 Malcolm, cruise director for Atlantis Events, returns to Cape Colony Inn this year to have some fun along with some special guests! Join us August 23 from 1 – 3 at our pool where Malcolm will host games sure to make you laugh all afternoon. Complimentary food and champagne will also be served to get your Saturday started right!
Along with a few special Ptown-elbrity Guest Stars (Last year Miss Richfield 1981 came to have some fun with us), he will host the "Race to Ptown" to start off the afternoon. Contestants will compete in a simple obstacle course involving all the activities that are involved with getting to Ptown from boarding the ferry to checking into Cape Colony Inn.
Following, we will have another 2 exciting games with some especially funny commentary. Prizes for our winners include a complimentary stay at Cape Colony Inn and Atlantis merchandise. Food will be provided by Far Land Provisions.
Last year, we had tons of fun with Malcolm and are excited to invite him back for this annual celebration! If you have questions, please email us or RSVP here for this FREE event. All who sign up get a special free gift from Cape Colony Inn!