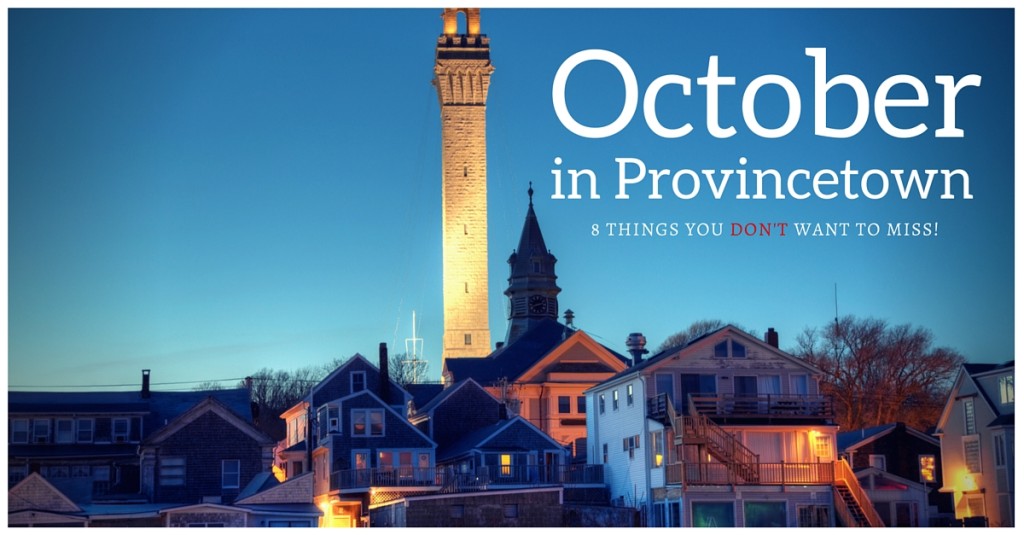 October is SUCH a great time in Provincetown with TONS to do! From Columbus Day to Halloween festivities, there are tons of reasons to head to Ptown for a long weekend or week getaway. Here are 8 events that we love during the month of October:
1. Monumental Yard Sale Weekend
October 9 – 12: Shops around time offer some great "end of season" deals and residents open their doors so you can hunt for some hidden treasures! Find out more.
2. Women's Week
October 12 – 18: There are so many great festivities and entertainers that hit Ptown for Women's Week each year and this year is no different! Check it out.
3. Fantasia Fair
Oct 18 – 25 : The longest running annual conference in the transgender world, this event features workshops, seminars, and entertainment. Find out more.
4. Provincetown Roundup
Oct 21 – 25: Serenity by the Sea Provincetown celebrates another year of recovery, unity, and service for the LGBT&Q community during this annual event. Learn more.
5. Masquerade Ball
Oct 31: Heaven or Hell is a wild, no-holds-barred night of energetic dancing, deadly music and menacing encounters all tied together with MoonMaxx Entertainers tempting you with the age-old battle of good versus evil! Get tickets.
6. Spooky Bear Weekend
Oct 30 – Nov 1: Annual Spooky Bear weekend features fun activities all weekend! Find out more! 
7. Halloween Weekend w/ Kid's Parade
Oct 30 – Nov 1: Families flock to Provincetown for Halloween each year for the fabulous kid's parade and trick-or-treating! Check out your favorite restaurant or shop to see what they are doing! And stop by the front desk at Cape Colony Inn for a treat!
8. Dead Silence
October: Throughout the entire month, you can check out this superb theater attraction benefiting Provincetown Public Library! Find out more.