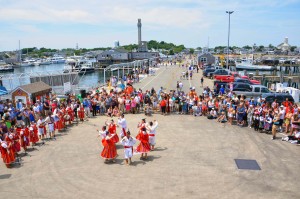 The Annual Portuguese Festival and Blessing of the Fleet takes place the last week of June each year in Provincetown.  For over 60 years, the town of Provincetown has honored its Portuguese ancestry with a Blessing of the Fleet as well as the Portuguese Festival.   The streets of Provincetown and MacMillan Pier are lined with red and green flags during this four-day event that attracts a growing number of participants and spectators from all over New England in search of Portuguese traditions and heritage.
The festival kicks off with "Share Our Table," a showcase of Provincetown's best restaurants all under a tent at the Bass Relief.  There are events for everyone—Kids Painting in Portuguese Square, Fishing Derby for Kids, Lobster Crate Race, the Flag Race, readings by Portuguese writers and poets, and more.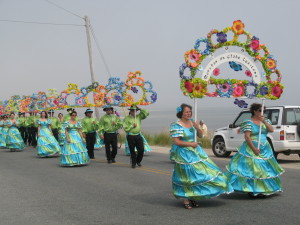 A highlight of the week includes the Portuguese parade.   Dancers in costume parade down Commercial Street dancing to the sounds of Portuguese bands from various Portuguese communities all over New England.   
The Blessing of the Fleet takes place on the last day of the event.  Over 350 decorated vessels participate in this annual event.  Residents and visitors of Provincetown gather together at MacMillan Pier to watch as a local priest gives his blessings to the vessels, which is meant to ensure a safe and bountiful season. 
You don't have to be Portuguese to attend this colorful cultural event.  It's a family-friendly event with lots of amazing food, entertainment and activities!  So plan on heading over from Cape Colony Inn and join in on the fun!